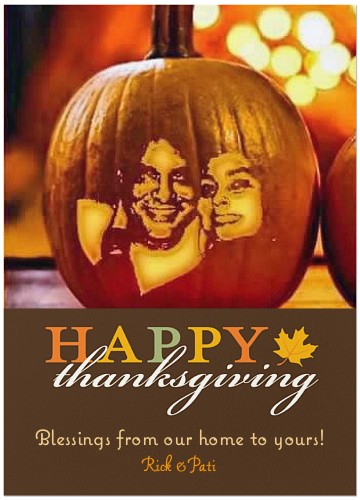 was my Thanksgiving card I sent out
Feeling very Thankful & blessed !!!
for his

blessings in our lives !!!
Grateful for our Friends & Family !!!!
We would love to see family back home...
We didn't go to Pittsburgh this year
…
The Clark Pilgrims
It was just the two of us this Thanksgiving !
My husband and I had a wonderful day
We spoke to our son in Germany and he had to work but celebrated with his troops!!!
It is hard not being with the people you love around the holidays …
Thanks goodness for Skype & Facebook
to communicate with your love ones overseas!!!
Here is a video my niece Aleigha sent me wishing me a Happy Thanksgiving ...
Our Thanksgiving Decorations
Gotta have some Monogram "C"
Tom the Turkey Candle

warmer
Most of our feast was Gluten free …
We decided to cook our turkey in a roasting bag this year and boy did it come out moist !!!
We are going to cook the turkey
Our Thanksgiving traditional
walk off the feast...burn those calories!
I enjoyed every calorie of turkey & the fixings
please stay off my thighs....lol ;)